Company culture is no more a generic term. Every organization be it a startup or an MNC, have their own set of values and culture that highlight their core beliefs. These values define your company and what it stands for and is important for stakeholders and employees alike. This is what will attract future investors and the right talent to join your company. Your workplace, website, as well as other marketing collaterals, should effectively communicate these values to the public.

Aligning your company culture with employees and stakeholders brings a sense of harmony and people can function cohesively as a single unit. But the question that arises is how to effectively communicate your company culture and values?
Instill values through action
Inculcating company values through actions is the best way to ensure that workers are well aligned with the company culture. Ensure that your recruitment and onboarding process embodies these values. Processes should be transparent, swift, and directed towards a holistic development. Celebrate team members when their actions embody company values. It is important to live and lead by example; set core values and abide by them as an encouragement for others to follow suit.

Only around 1 in 4 Millennials have heard someone talk about how their daily work connects with their organization's mission and purpose in the past seven days.

Inculcate values through training
19% of employees either don't understand their core values or simply don't know them.

Orientation and training sessions should serve as a ground for inculcating or introducing employees to the company values. Sending a random email to new hires or simply printing company values at the end of the marketing material won't ensure its adoption. Rather inculcate them through formal training and teach employees how to embody it through their actions. Capture and create traditions that support your culture.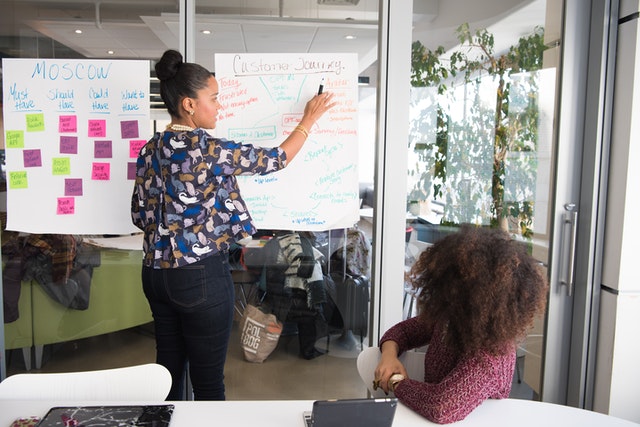 Reinforce values through all forms of communication
Every employee touchpoint should reinforce the values be it newsletters, company-wide emails, or in-personal meetings. You can add them to your email signature, to your newsletters, the bottom of your presentations. Though it may seem forced at first, constant use will not only make it a habit but will also make adoption of values into your core system and processes much easier.
Review your recruitment process
The recruitment process is the first contact a future hire makes with your company. Take special notice of how these values are shown throughout the job posting. Look at people who value a similar culture or are looking for something identical. Hiring a person who is completely disillusioned with the company culture and values is detrimental in the long run. Explain your values during the interview process and ask questions that determine whether the potential candidate possesses or shares these thoughts. The entire recruitment process should be clear, concise, transparent, and swift which demonstrates to the candidates the core system of the company.
Show appreciation
Showing appreciation or rewarding employees that demonstrate company values will encourage others. There are many ways to reward value-centric behavior such as spot bonuses, promotion, incentives, or including a piece about the employee in monthly marketing materials such as newsletters, or company-wide emails. Appreciating or acknowledging performances can have a lasting impact and serve as positive reinforcement. 

Review the performance evaluation process
Are your performance evaluations timely held? Does your company practice a feedback culture? Once you have hired and trained employees, align them with your values, you can get started with the evaluation process to determine how well employees have inculcated these values. This assessment should come with feedback on how each of them performed and how well they have integrated the company culture into their daily work.
Talk about your values
67% of Global CEOs predict that in five years, workplace talent will focus more on corporate culture and values than they do on pay.

Just writing about your values is not enough. Talk about them during meetings, presentations, orientation sessions, and explain to your staff how you arrived at them or the importance these values hold in building your organization. Without explaining or talking it is unlikely that everyone will understand the sanctity of the values. Aligning everyone in the team with the same values and goals ensure that everyone is headed in the same direction and reduces the chances of friction.
However, when an employee shows contradictory behavior consistently that does not align with company values it is essential to take strict remedial actions. This will not only preserve a positive image of the company but also demonstrate that such behavior is not encouraged. At the end of the day, each employee represents your brand. Therefore, it is essential that it is projected correctly and adheres to company policies and culture, in general.
When it comes to values, it becomes credible only when the senior leadership walks the talk. Without that the entire company fails and loses sight of what these values actually mean. Incorporating a positive work culture has a direct impact on productivity, employee wellness, and customer satisfaction. During tough times, company values are what strengthens the entire team and help in striding through the difficult hours. Take time to build your values, communicate it to the team effectively, and lead by example. A company that has strong values attracts the best talent, has low attrition rates, runs efficiently, is more productive, and profitable in the long run.
About Paylite HRMS

A one-stop HR Solutions suite, Paylite® HR Management Software is the most admired HR Software in the GCC countries. It comprises HR modules like Payroll, ESS, Time-sheet Management, Attendance Tracking, Appraisal, Onboarding, etc. all of which are built on the top-notch technology from Microsoft®, and aimed for faster, accurate, and cost-efficient HR process management. Many corporate majors like OSN, Publicis Groupe, CNBC Arabia, aswaaq, Imkan Property, 2XL, KEF Holding, Al Qalib, among others are using Paylite HR Management Software for maintaining and managing their daily HR tasks.

To know more visit: https://www.paylitehr.com/